Supply Chain Management Trainee Scheme
APUC runs a Supply Chain Management Development Programme which aims to develop future management level procurement professionals with the potential to develop their careers in APUC and/or in client institutions. The scheme has been running for many years with all trainees successfully employed in procurement management roles.

Comments from our current trainees (2022-2024)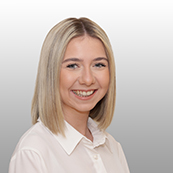 Lauren Millar
Supply Chain Management Trainee

Stephen McDuff
Supply Chain Management Trainee

Paula Hirschganger
Supply Chain Management Trainee
After gaining an Honours degree in International Supply Chain Management at Glasgow Caledonian University, I struggled to find my next steps and as many typical traineeships want 'experience'. I had none of this being fresh out of university. After a year of working in the Head Office of a Jewellers, I came across APUC and their graduate programme. I believed that I could enhance my background knowledge in supply chain through this role and enter public procurement with support and development opportunities. I have nearly finished my first 6-month placement in the Estates team, and it has taught me so much and given me the chance to play the role of a supply chain manager within a fast-paced collaborative team. I have worked independently and been faced with tasks that have built my confidence and showed me I can do more than I ever thought. I have had non-stop support from my colleagues, and even people out with the team who have never met me in person yet! I am so excited to continue with the rest of the graduate programme and experience working within the institutions to piece the whole procurement journey together and see where it can take me.
Having had a mishmash of previous jobs leading up to university I graduated with an Honours degree in International Politics, I was unsure what career path to take following this. During my time studying I became interested in supply chains and sustainability, which lead me to find the graduate scheme with APUC. While preparing for my application I read an article about responsible procurement and thought this is the job I want to do. The graduate scheme is excellent for anyone from any walk of life, you are taught while working on the job and gaining valuable experience throughout your placements. A open minded attitude and willingness to learn will go a long way towards your success with the graduate scheme. I am currently doing my Estates placement which is full of loads to learn but given at a very easy to digest rate that is very manageable.
Working for a company that prioritised and valued sustainability as much as I do has always been my priority. Therefore, after studying BA (Hons) International Fashion Branding at Glasgow Caledonian University, I decided to focus on sustainability with the MSc Supply Chain and Sustainability Management at the University of Strathclyde. During my master's degree, I became interested in supply chains and the potential to have a positive impact through procurement and applied for the APUC Graduate Programme to get my career started. I chose this role for its focus on sustainability and responsibility, and because I felt it would give me a solid foundation of procurement knowledge to develop my career in public procurement. My first placement is in the Information Systems team where I have been gaining experience about the regulations and processes around public procurement, responsible procurement, and the systems that are used on a day-to-day basis. After just a few months, I have already learned so much and am looking forward to the rest of my time here and completing placements in different institutions to see how procurement works from that perspective.

Ross Sharp
Supply Chain Management Trainee
Looking for a career change after my time in the hospitality sector, I applied to do a Masters in Supply Chain Management and Logistics at Heriot-Watt University. Over the course of my studies, I learned about central supply chain principles, strategies for managing supply chains and the challenges of global procurement. Throughout my degree I gained a passion for progressive ethical and environmental business practice, learning that organisations could make a real impact to the sustainability agenda through their responsible procurement. With this in mind, I came across the APUC Graduate Programme and I was lucky enough to be offered a place as a trainee. The scheme is split between a College and University placement, alongside a period within the collaborative team - I'm currently working in the HR and Professional services category. My experience so far has been overwhelmingly positive, with the right level of responsibility and support that has made the process enjoyable and empowering. I'm currently building my own Framework agreement which has allowed me to engage with multiple stakeholders and learn about the nuances of public procurement; this process has also given me first hand knowledge of the tendering process from the early stages. My subsequent institutional placements will expose me to the other end of the process, with the opportunity to call-off from the frameworks created by the collaborative team, alongside other internal procurement procedures. Asides from the Graduate Scheme itself being very comprehensive, a lot can be said about the culture in APUC. They are an organisation that truly care about their employees, offering a number of incentives and flexible working patterns and more broadly, their commitment to sustainability goes above and beyond.

Comments from our former trainees (2013-2022)



Emma Carroll
Procurement Projects Manager

Catriona Lawson
Procurement Officer at SRUC

Rachel Park
Procurement Coordinator at
City of Glasgow College
Having graduated university with a degree in International Studies, procurement wasn't an obvious career path. What attracted me to apply for the Graduate Programme was the focus on sustainability, particularly within the public sector setting. My degree had a heavy focus on looking at challenges and problems from an environmental angle, so this aspect of the role definitely seemed to align with my studies and my interests. Having no background in procurement, the Graduate Programme has taught me the job from the ground up and has allowed me to gain knowledge and confidence in a job role that I had no understanding of 18 months prior. The Graduate Programme contains four different placements, each allowing you to experience different ways of working within the sector. My first placement was within Estates, which is one of the core teams within APUC. This placement really built a foundational knowledge of procurement, and I was able to see different parts of the tender process to gain a more holistic view of what this looks like in practice. I was also afforded opportunities to understand contract management on this placement. My second placement was within the eSolutions team, and this gave me a greater understanding of the processes and systems that we use regularly within our job roles. The other two placements that have to be completed on the Graduate Programme are one in a University and one in a College. My final two placements were with the University of Strathclyde and West College Scotland. These placements really helped show me what it was like working day to day with various requests and changing workloads depending on projects that needed completed. Both of these placements and the knowledge I gained really helped me increase self-confidence in the role. Particularly with my final placement at West College Scotland, I felt I was given more responsibility to carry out tender exercises on my own which really helped cement everything I had learned from all the previous placements. During the length of the programme, APUC also supported me in working towards my CIPS qualification, and I have now completed Level 4 of this qualification. Overall, I have really enjoyed my time on the Graduate Programme and have been lucky to work with knowledgeable and genuine people across all of my placements who have all helped me through the various stages of this programme. Upon completion, I am now based within the West College Scotland team as a Procurement Project Manager, and I am looking forward to seeing what this role brings over the coming months.
After graduating with a History degree in 2015 I felt a bit lost and really had no idea what I wanted my career path to look like. I ended up spending five years working in different roles which all fell into a procurement/supply chain theme. When I saw the APUC Graduate Scheme advertised, I felt that I could utilise my fragmented experience in procurement and gain the knowledge and expertise to become a Procurement Manager within the Education sector. My fellow graduates and I were thrown into a somewhat different experience starting a Graduate Scheme during a global pandemic! It meant I became super savvy on Ms Teams and whilst it was a while before I got to meet anyone in real life, I felt supported throughout our working from home experience. My first placement was with Esolutions which was a great insight into how the systems work and how I could utilise them efficiently within my role. I then moved on to my 4 month college role where I worked with a group of Central Scotland colleges. This was a great way to gain an initial insight into institutional procurement as I was straight away given the responsibility of liaising with stakeholders, researching suitable frameworks and drafting extension letters. By the time I left this placement I felt that I had gained a great base level of what the work involved. I then moved on to my 6 month placement with the Estates team at APUC. I really enjoyed my time in the team and learnt so much. I was able to help work on different stages across various Framework tenders, from research and strategy right through to implementation meetings. When I started the placement I would sit in on supplier meetings to learn from my colleagues but by the time I finished I was confidently leading these meetings. Finally I finished my Graduate Scheme with a 6 month placement at the University of Edinburgh. I thoroughly enjoyed this placement and when I started I finally felt as if I sort of knew what I was doing. I worked within the Professional and Campus Services team and my colleagues were extremely supportive and made me feel like part of the team right away. I really felt like this placement got me more comfortable and confident with being a Procurement Manager and I was given big projects to manage straight away. Procurement within a big University is unlike anywhere else so there were many learning curves but I gained so much in both knowledge and ability. My favourite placements across the Graduate Scheme were both Estates with APUC and my final placement with UoE. I never thought I'd be the kind of person who actually liked their job but I now honestly do and am so glad I decided to apply for the Grad Scheme back in 2020. I definitely feel like I'm on a good career path at last and looking forward to continuing to develop and progress within Procurement.
Having graduated with a Joint Honours Degree in Business Management and History of Art, and then working as a Lead Barista in a Coffee Shop for a few years after... I really had no idea what path I was going to take! I applied for the APUC Graduate Scheme as I wanted to work for an organisation whose values were forward-thinking and aligned with my own. Although I had no prior background in Procurement, I found that through my studies and work experience in retail, you can gain so many transferable skills that aid a career in procurement. The programme gives you a varied understanding of public procurement through experience and training within four different placements. My first placement was in the IS Category in APUC's Core Team: where I started to gain an understanding of how Frameworks are created and implemented, as well as the Contract Management that is undertaken for these. After this, I began my first institutional placement at City of Glasgow College where I experienced the ever-changing workload and quick pace at institutions. This is where I started to "put the pieces together". My third placement with the eSolutions Team gave me invaluable knowledge on the processes and systems that are key within our roles. Finally, my placement at the University of Glasgow was where I really built my confidence and started to feel like "I actually can do this!" I led several projects during my 6-month placement there: engaging with stakeholders, developing ITT documentation, running supplier interviews, conducting consensus meetings, leading debrief meetings and so on. During the Graduate Scheme, the trainees also organised the Annual Away Day event which - after starting with APUC in a pandemic and working through about 3 lockdowns - was nice to finally be able to socialise with supportive colleagues who we had only met over Microsoft Teams! APUC have also supported us in working towards our CIPS Qualification which was another great benefit. Now that I have completed the Graduate Scheme, I have realised that no 2 days are the same in Procurement, and I am excited to continually learn and develop on top of the strong foundation the APUC Graduate Scheme has given me.

Craig Martin
Procurement Manager at
Glasgow Caledionain University
The Supply Chain Management Development Programme has provided me with a solid platform to learn about the world of public procurement from the perspective of the HE/FE sector. Having only studied supply chain/procurement management in an academic setting before joining APUC, I was slightly apprehensive about moving into a work environment where I would be tested with real-world tasks and problems as opposed to those I had been used to in textbooks. However, over the course of the 18 months of my traineeship, the support I received from my colleagues made this transition smoother than I could have hoped for. There is a collaborative culture within APUC which is crucial for development in a profession in which you are continuously learning. My APUC colleagues have made it easy to create good working relationships and are always willing to share knowledge and advice where it is needed. I would suggest that even if someone does not have academic or work experience in procurement/supply chain management then this should not discourage them from applying for the Programme. If you are a motivated, eager to learn individual with a passion for providing good service and driving value for money then this could be a potential career option to explore. My placements over the traineeship consisted of 6 months with the Laboratories Category of the APUC Collaborative Contracting Team, 2 months with the APUC eSolutions Team, 4 months shared service with Ayrshire College and Forth Valley College, and 6 months with Glasgow Caledonian University. Being able to experience procurement/supply chain management from this variety of perspectives has provided me with an awareness of the HE/FE sector that would not have been possible if I had only worked in one institution for the entirety of the traineeship. This has provided me with an invaluable introduction into the profession and a solid grounding from which I can confidently move forward into the next stage of my career.

Andrew Young
Supply Chain Manager at the University
of the Highlands and Islands

Laura Muir
Supply Chain Manager at Napier University
Throughout the duration of the APUC Graduate Trainee Programme, I have been afforded the opportunity to complete different placements and consequently gain experience of different procurement environments. My first placement was in the procurement department at Glasgow Caledonian University, where I learned how to undertake spend analysis activities and was also given the opportunity to assist the development of tender documentation and shadow Procurement Managers at various meetings such as contract management, consensus and debrief meetings. My second placement was in the Information Services department at APUC. During this placement I worked on the development and publication of an OJEU Framework which was invaluable in terms of learning how to conduct pre-market engagement with suppliers and working with various stakeholders to develop tender documentation which reflected the requirements of different institutions. I am now working in a split role at New College Lanarkshire and the University of Glasgow. These placements have provided me with a further opportunity to take the lead on various procurement exercises such as Mini-Competitions and Site Notices. Throughout all of my different placements I have been fortunate to work in a very supportive and pleasant environment with colleagues who have supported my development. A further benefit I have experienced is the support given by APUC in terms of professional development, where APUC have supported me towards the completion of CIPS Level 4 Diploma in Procurement and Supply.
Having graduated with a degree in Physiology and Sports Science, and then working for Next Retail as a store manager before going to Virgin Atlantic to work as long haul cabin crew for several years, Procurement was a completely different direction for me! The APUC Graduate Trainee Programme has allowed me to gain an in-depth insight into several different aspects of the sector and develop a wide skill set as a result of undertaking 4 different placements throughout the programme. My first placement at Forth Valley College and my final placement at Edinburgh Napier University and Edinburgh College gave me great experience in working within a team in a College/ University setting, and I was able to participate in various tender exercises as well as Risk Analysis and stakeholder engagement. Through my second placement in eSolutions I was able to gain a better understanding of all the processes and systems that the sector use and was able to put the knowledge in practice when I moved into my next placement. I also completed a placement in the Estates team, where I was able to take part in an OJEU tender and attend various Contract Management meetings, which were really interesting and beneficial for my future development. I have also been working towards my CIPS level 4 Diploma in Procurement and Supply supported by APUC which has allowed me to improve my knowledge in the sector further. I have really enjoyed my time on the Graduate programme and the support I have received has been fantastic throughout, allowing me to gain confidence for my future within the sector.

Alice Ng
Supply Chain Manager at Glasgow Kelvin College

Mark Eardley
Supply Chain Manager at the University
of Edinburgh

Kirstie Higgins
Deputy Head of Procurement at the University of Strathclyde
Having graduated from my MSc International Relations I worked in a variety of fields, including as a Purchasing assistant in a fashion retail company in London, where I discovered my interest in supply chain management. After returning from a year volunteering and travelling in Asia, I applied for the APUC Supply Chain Management Development Programme for the opportunity to advance my career in procurement while engaging my passion for sustainability. The programme offers a wide variety of training through rotational placements, in APUC's main offices and in universities and colleges, alongside the opportunity to study for a professional qualification (CIPS). Moreover, the length of the programme (18 months) enables me to learn, practice and actually take a responsible role in each of the placements. So far, I have had a great learning experience - first working two months with the eSolutions team, understanding the different tools used within APUC and across the sector. I also completed a six-month placement at the University of Dundee which enabled me to work in the challenging context of a university, dealing with different stakeholders and answering to a wide variety of procurement needs. I am now finalising a placement within the Professional Services category in Stirling. It has been a very interesting way for me to understand how frameworks are developed and implemented for later use by the universities and colleges. I want to devote my career to ethical procurement and learning from the APUC traineeship is an outstanding chance to build knowledge of best practice with a critical view of how to adopt more ethical, sustainable and responsible approaches to procurement.
Having studied Business Management at university, I gained an understanding of supply chain management and sustainability - with a focus on Corporate Social Responsibility. Understanding that a sustainable supply chain can impact positively on various types of stakeholders and the environment inspired me to become involved in public sector procurement. I was attracted to the idea of having the opportunity to contribute towards CSR in supply chains; with the chance to learn on the job through placements; and through working towards gaining the CIPS qualification, with 4 exams undertaken so far. I have had the opportunity to work alongside colleagues on a broad range of projects at Edinburgh Napier University and Fife College - here I gained knowledge from colleagues with varying levels of experience. My placement in eSolutions included training on various sector-wide systems such as Hunter and PCS-T, which has been particularly useful when working in institutions, and within my current role in the Estates and Facilities Collaborative team. I have also attended various formal training day arranged by APUC; and attended several conferences and networking events. I am looking forward to continuing my current placement, with the goal of securing a more permanent position within APUC/affiliates upon completion of the graduate programme.
Having graduated with a degree in Criminology I worked as a Finance Assistant at West Lothian College where I had exposure to Scottish Procurement Regulations. The APUC Supply Chain Management Traineeship provided the opportunity to utilise my experience and build a career in an area I was interested in, in an organisation with strong corporate and social values. I spent my first six months working in the APUC collaborative team for Information Services. This gave me the opportunity to contribute to the initial research phase, strategy development and creation of tender documents. The team were very supportive and encouraging. I then went on to spend a further six months in the University of Strathclyde. At the University I was given the opportunity to work on a wide range of mini competitions and open procurements and trusted to work independently on those where I felt I could. However, there were also lots of experienced members of staff to provide support whenever it was needed. My third placement was spent with the eSolutions team understanding the different tools used across the sector such as Hunter and PCS-T. The skills I learnt in this placement can be used when working in the collaborative team or an institution. I am currently about to start my final placement which will be split between New College Lanarkshire and South Lanarkshire college. I am looking forward to the challenge of a split role and getting to understand how procurement works in a college environment. My current goal is to gain as much experience as possible in my final placement and continue to work towards completion of my CIPS qualification.
Louise Levens
Deputy Head of Category for Estates and Facilities

Ricarda Bieke
Head of Responsible Procurement

Kate Murray
Head of Procurement for Edinburgh Napier University and CPO of ERPT
People always say you should find a job you enjoy, where you never get the Sunday night feeling dreading the week ahead and look forward to going to work. This is how I feel being on the Graduate traineeship at APUC. I applied for the graduate traineeship whilst completing my degree in Social and Public Policy at Glasgow University. I was fortunate enough to be successful in gaining the traineeship before I even graduated. Although my degree is not directly linked to procurement, it taught me how to engage and understand policy documents and the impact policy can have in practice. Training is split into four placements, each placement having its own specific focus within procurement. For example, working in E-Solutions involved an overview of all programmes used throughout the company and data analysis. Whereas, my current placement, at Glasgow Caledonian University, involves engaging with stakeholders and preparing tenders for the University. Training so far has been excellent and I have built on a number of skills such as; ICT, team work, organisational, time-keeping but most importantly is the ability to multi-task. In just under a year, I now have a working knowledge of procurement which means that my confidence in the workplace continues to grow. One aspect of the traineeship which is good is the continuing professional development afforded to me through working towards CIPS. Although working full-time and studying is very different from university, the knowledge you gain on a daily basis helps you with the knowledge required to sit the professional exams. Throughout the graduate programme, there are also opportunities to meet with the whole company at APUC Open Forums and Away Days. Aside from networking opportunities, this is also a good social event where you can spend time with colleagues from institutions other than those which are part of your placements. One of the things I am most proud of so far, is the Away Day event that the graduates organised, where I used skills I wasn't even aware that I had! It's a brilliant feeling when you see your planning and hard work come together, culminating in a great company event. Every line manager I have worked with has been extremely helpful and set targets for me during my time with them. They have been supportive in a number of areas and encouraging at all times whilst I am trying to find my feet in the workplace. Even though I had no previous knowledge about procurement, I have found it be an exciting and ever evolving career path where no two days are the same. APUC continue to guide me through this programme with support and knowledge at all stages of my development.
Having been interested in Supply Chains and Procurement as an area to apply my Environmental Management and Sustainable Development background onto, I find the time as a Supply Chain Management Trainee at APUC a perfect way to learn the procurement basics while getting involved in making the sector's supply chain more sustainable. The change of tasks and settings by going through different placements within APUC and institutions make the learning process a challenging yet rewarding one.
Within the Development Programme so far, I have worked in two different category teams (Information and Communication Technology and Laboratory and Professional Services) within the Operational Procurement department at APUC's main office in Edinburgh, and in the Professional and Campus Services category team at the University of Edinburgh. Within these category areas, I have worked on the full spectrum of the tender process from, in the initial stages, research and strategy through to, at the end, evaluation and implementation. My professional and academic interest in the social and environmental aspects of sustainable supply chain management attracted me to the Development Programme at APUC. As my background is not in public procurement, I think an advantage of this programme is the opportunity to try out different procurement specialisms both at APUC and within an institution - as well as operational procurement, there is the opportunity to work in College Services, e-Solutions and on projects around Supply Chain Sustainability.

Victoria Kulczycki
Director of Procurement at University of Edinburgh

Ester Vasallo
Head of Procurement at Forth Valley College
Having developed a core interest in commerce, business development and supply chain management upon graduation, procurement has the perfect career path for me. The APUC Supply Chain Management Development Programme has provided me with an extensive amount of knowledge and development opportunities in procurement to prepare me to work in the sector. My time in the programme has been challenging, yet very rewarding in terms of my professional development as I have gained a thorough understanding of procurement at both an institution and consortium level. I have greatly enjoyed my time working with APUC and the HE and FE institutions and I have gained invaluable experience to prepare me for a career as a Procurement Manager.
What first attracted me to apply for the trainee programme was the opportunity to utilise my knowledge in sustainability to make a positive impact in the public sector and also being able to gain a CIPS qualification. Working for APUC has helped me to gain knowledge and experience in public procurement through attending training courses and by working alongside experienced colleagues in a range of departments in APUC and higher and further education institutions. It has been an extremely positive experience and I look forward to the next step in my career.